2018.10.16 09:00
Fintech Innovation 2018
Márk Hetényi
Vice president, MKB Bank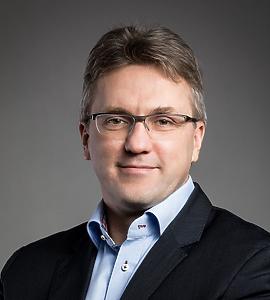 Earned his "Bachelor of Business Administration" degree, majoring in accountancy and economics, at the Georgetown University (USA) School of Business in 1997. Winner of the professional prize of the University. Obtained his "Master of Science" degree, majoring in computer engineering, at the Santa Clara University (USA), School of Computer Engineering, in 2004.
Started his career in 1997 at PriceWaterHouseCoopers Ltd. as Senior Accountancy and Advisory Manager. In addition to his auditing work he was in charge of complex, primarily M&A counselling tasks in Hungary and in Silicon Valley, California. From 2005 he supervised a staff of more than 300 as regional vice president – director of finance of
the units in Europe and the Middle East of Flextronics International, a multinational firm exceling in design, manufacturing and logistics.
Joined the team of the MKB Bank from February, 2015, first as deputy CEO, Finance and Operations then from 2016 as deputy CEO, Retail and Digital and has also been in charge of Strategy as well from
2017. After helping in the rehabilitation of the bank, its financial and cost structure, currently his key tasks include the digitalization of the bank, invigorating the Retail division and the introducing the Core system. Has been on the Board of the Bank since July 23, 2015.
Active in social and public life – served for 6 years as member of the Board of Directors of the American Chamber of Commerce and has supported the growth of volleyball for the 2nd year now working on the Board of the Hungarian Volleyball Federation.
Spends his free time with his family, his three children and wife, sports and reading.